Paris highlights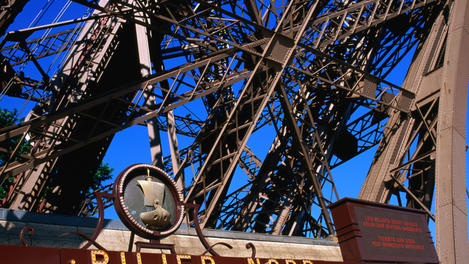 The view of the 'city of light' by night is mesmerizing from the tip of the city's iconic spire, with its 360-degree panoramas over Paris.
Over 250 million people have ascended the tower to date. Most visit its three platforms (57m, 115m and 276m) in daytime hours, when, on a clear day, views from the top extend up to 60km. Far fewer visitors make the pilgrimage after sunset, when queues are significantly shorter. Night-time at the top can be breezy – bring a jacket.
The home of France's national collection from the Impressionist, Post-impressionist and Art Nouveau movements is, appropriately, the glorious former Gare d'Orsay Art Nouveau railway station.
On the ground floor you'll find earlier works of the era, while the middle level has some stunning Art Nouveau rooms and sculptures. On the skylit upper level, masterpieces include Manet's On The Beach; Renoir's Ball at the Moulin de la Galette; Degas' ballerinas and Van Gogh's scenes of Auvers-sur-Oise just outside Paris (where he died and is buried).
The merest ray of sunshine is enough to draw apartment-dwelling Parisians outdoors. You'll see locals unwinding throughout the city: in parks, on bridges and on the banks of the Seine. But the Luxembourg Gardens have a special place in the hearts of Parisians.
Napoleon dedicated the gardens to the children of Paris, and many residents spent their childhood prodding little wooden sail boats with long sticks on the octagonal pond, watching marionettes perform Punch & Judy–type shows, and riding the carousel (merry-go-round) or ponies.
4 Markets
Nowhere encapsulates Paris' village atmosphere more than its street markets. Not simply places to shop, the markets are social gatherings for the entire neighbourhood, where residents toting quintessentially Parisian canvas shopping bags on wheels chat with stallholders and pick up culinary tips.
5 Mosquee Parist
Built between 1922 and 1926 and topped by a 26m-high minaret, Paris' art deco–Moorish mosque is a treat off the beaten track. Provided you're modestly dressed, you can wander through the colonnaded courtyards – with incredible acoustics during the Call to Prayer – and leaf through ancient Arabic texts in the library.
A kind of spell descends as you enter this cluttered, charming bookshop opposite Notre Dame. Its enchanting nooks and crannies overflow with new and secondhand English-language books, while amid handpainted quotations and a wishing well, a miniature staircase leads to an atticlike reading library.
The bookshop is the stuff of legends. The original shop (12 rue l'Odeon; closed by the Nazis in 1941) was run by Sylvia Beach and became the meeting point for Gertrude Stein's 'Lost Generation'. Beach published James Joyce's Ulysses there in 1922, when no one else would.
7 Île St Louis
The Île St-Louis' tiny streets – where you'll still see the odd Citroën 2CV among its few cars – are a quiet respite from the city's hubbub. Quaint shops are dotted around the island, while its riverbanks and bridges are idyllic for listening to buskers or just watching the riverboats glide by. A stroll here is a favourite pastime for Parisians as well as visitors, but it wouldn't be complete without a cone of Berthillon ice cream in hand.
Stretching a whopping 700m along the Seine, it's estimated it would take nine months just to glance at every artwork in the world's largest museum.
But – with a bit of planning – it doesn't disappoint.
Save time by purchasing your ticket from the Louvre's website, ticket agencies, or machines in the Carrousel du Louvre beforehand. Museum tickets are valid all day, so you can take a break any time.
Climbing the stairs from the busy Bastille quarter's av Daumesnil brings you out on top of the viaduct that has been turned into the tranquil Promenade Plantée. Planted with a fragrant profusion of cherry trees, maples, rosebushes and lavender, it's a haven that feels far from the madding crowds four storeys below.
Paris is a collection of villages, and this 48-hectare cemetery of cobbled lanes and elaborate tombs the size of small houses qualifies as one in its own right.
Among the cemetery's celebrity residents are the composer Chopin; writers Molière, Apollinaire, Balzac, Proust, Wilde, Gertrude Stein (and Alice B Toklas) and Colette; artists Delacroix, Pissarro, Seurat and Modigliani; singers Édith Piaf and rock god Jim Morrison.
For further tips on what Paris has to offer try our city guide or our Pick and Mix chapters.